Classic vs volume lashes: what's the difference?
So you want to get eyelash extensions done? Great - you'll LOVE them! First though, you have a decision to make: classic lash extensions, or volume lashes? It's not immediately obvious what the difference is from the name but there are quite a number of distinctions between them - in terms of look, the time it takes to have them done, and in cost.
If you're not sure which style is right for you, read our handy guide to all the differences between classic and volume eyelash extensions.
What are classic eyelash extensions?
Classic eyelash extensions are where single extensions are applied to each natural lash. It's sometimes referred to as 'one to one' because it's one extension to one lash. A lash artist dips the end of an individual extension into adhesive then applies it on top of or under your natural lash, and repeats until each medium and mature lash is done.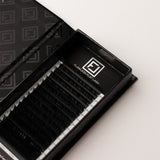 Flawless Tip: Looking to enhance your clients' lashes with excellent retention and a natural look?
Use our 0.15 Flat Mixed Lengths Classic Lash Extensions for excellent retention and a soft, lightweight feel.
Classic is the go-to choice if you're seeking a more natural look, giving you gorgeous longer looking lashes. This style of lashing has been around the longest, and can be done more quickly than volume looks, especially if your technician is very experienced.
What are volume eyelash extensions?
Volume eyelash extensions are where two or more individual extensions are attached to each natural lash. They are first formed into fans, which is where the desired number of lashes are fanned out and as a "bouquet", applied onto one natural lash with adhesive.
Flawless Tip: Searching for the perfect lash extensions to create glamorous volume looks with excellent retention?
Try out our New Matt Colour 0.07 Flawless Volume Lash Extensions to really amp up your lash profession.
This style is also known as Russian Volume. Russian Volume creates a much more dramatic look but does take longer due to the precision and expertise involved, and you'll need a bigger budget.
If the fans are made of 6 or more extensions then this is known as Mega Volume. Please note, Mega Volume is not suitable for everyone - lash artists will inspect your natural lashes to determine whether your natural lashes are strong enough to support mega volume fans.
Which is better classic or volume lashes?
So which style is better? We've pulled the key differences into a comparison table for you. It all comes down to what each individual prefers, so study the below and check out lots of looks on Instagram to see what appeals to you the most.
| | Classic Lashes | Volume Lashes |
| --- | --- | --- |
| Number of extensions attached to each lash | 1 | 2-10 |
| Look | Natural | Natural to Drama |
| What is enhanced? | Length, lash thickness and curl | Length, fullness and curl |
| Time it takes | 1.5 to 2 hours | 2 to 4 hours |
| Cost | £80-£100 / $100-$140 | £100-£300 / $140-$400 |
| How long they last | 4-6 weeks | 6-8 weeks |
| When to book infills | After 2-3 weeks | After 2-3 weeks |
| How long infills take | 30 mins to 1 hour 30 mins | 5 mins to 1 hour 45 mins |
| How much infills cost | £40-£70 / $50-$90 | £50-£150 / $65-$200 |
| Maintenance | Twice daily washing | Twice daily washing |
Flawless Lashes offers both classic and volume lash trays for artists at various levels.
Which lash technique is best for you?
If you've never had your eyelashes done before, classic extensions are a great place to start in order to get a feel for the treatment in general. You won't have to sit still for as long in the lash chair and they don't cost as much. Alternatively, opt for very light volume lashes, such as 2D-3D - this is where the fans have just 2 or 3 lashes.
Both styles of lash extensions require the same level of maintenance - you need to wash them gently with a suitable brush and cleanser every morning and every night. So the more affordable classic lashes are a good way to check you're ready for the time investment lashes require - before you spend too much on your lashes in the first place
If you're booking classic lashes for the first time, be sure to do your research and ask your lash artist in advance what thickness of lashes they use for classic lashes. Thicknesses of over 0.15 are not recommended, and 0.15 is only suitable for very strong natural lashes.
However, if you've been swooning over celebrity lashes and are lusting over something fabulously dramatic, there's no reason not to take the plunge and treat yourself to volume lashes.
Read our top tips for your first lash appointment.
You may also like to read:

Classic vs flat lashes: what's the difference?
---
1 comment
---